2023 ESPAS Annual Conference
14 November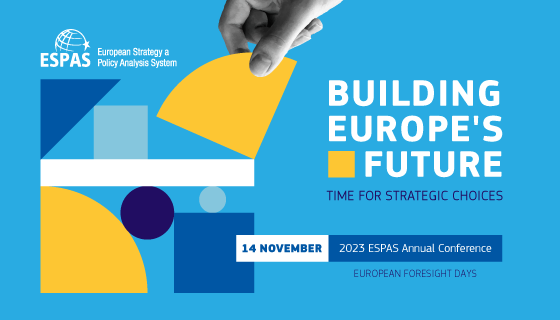 2023 ESPAS Annual Conference
Building Europe's Future: Time for Strategic Choices
Tuesday 14 November 2023
We are delighted to announce that the annual conference of the European Strategy and Policy Analysis System (ESPAS) will be held on Tuesday 14 November. As in previous years, it will be co-hosted by the European Commission and the European Parliament.
At a time when an illegal and unprovoked war continues to rage on European soil and ahead of the next EU institutional cycle, this year's 11th ESPAS annual conference will focus on the key global trends at the crossroads of geopolitics, the environment, technology, the economy, and democracy. We will debate, inter alia, the growing linkages between stability, security and the economy, the global tech race and future social, economic and environmental fairness, and digital technologies and their impact on democracy. We will also map the related strategic choices for Europe in the period to 2040.
This year's conference "Building Europe's future: time for strategic choices" will be a stepping stone in the journey towards the fourth ESPAS Global Trends Report, due to be published in February 2024. We hope this conference will help to shape the public debate in the lead-up to the European Parliament elections in 2024, and offer citizens a forward-looking perspective for Europe.
Be part of it!
Please get in touch if you have any questions ESPAS.Secretariat@europarl.europa.eu.